SHINJUKU DATA CENTER

Shinjuku Data Center
Functional and convenient Data Center in the center of Tokyo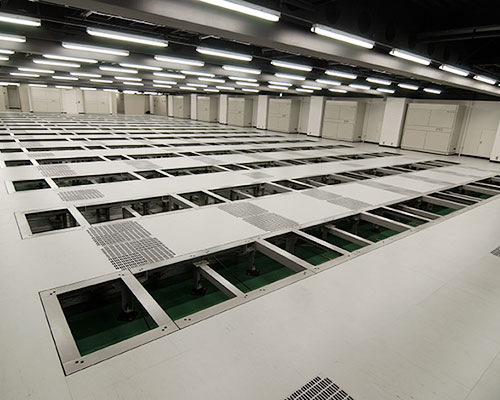 It is located in a convenient location that can be accessed from an office in the center of Tokyo and can respond quickly to urgent work. It is an ideal environment in terms of functionality and efficiency for customers who often visit the Data Center for maintenance work.
It is located on strong bedrock and is considered to be the safest place in the event of an earthquake. We also optimize the air conditioning efficiency by using our own rack "ColdMall®" to provide a high-quality operating environment that supports large-scale, highly integrated servers.
Facilities
Architectural structure
The seismic diagnosis has confirmed that the building conforms to the new earthquake resistance standards. The design has allowed it to withstand an arthquake of 6 on the Japanese seismic intensity. In addition, the floor of server roomes withstands as strong as 800kg per square meter of load.
High capacity power supply/air conditioning power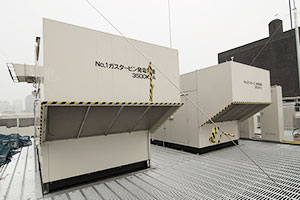 GTG (gas turbine generator)
The building's power supply uses the "3 spot network." As a means of emergency power supply, it is fully equipped with UPS, or uninterruptible power suppy, and GTG, or gas turbine generator which can operate for up to 24 hours using stored fuel.
On a colocation floor, you can use more than one 200v power system, which is good for operating blade servers or storage devices.
Access management by biometric authentication
Fully equipped with a security system using biometrics (biometrics authentication) such as a vein authentication device and security portal to prevent piggyback (tailgating) by measuring body weight and external shape.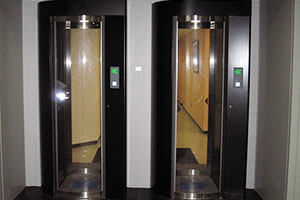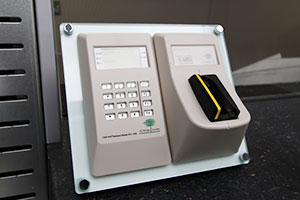 Vein authentication device
Rack/Space
Almost all types of rack-mount servers can be mounted on the cabinet rack which is 1000mm deep. The Housing Services is offered also in the unit of a cage, in which 2 or 4 racks are placed. If you would like to bring in your own rack(s) or cage(s), we can accomodate your request flexibly.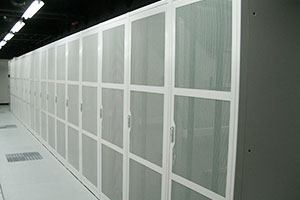 Server rack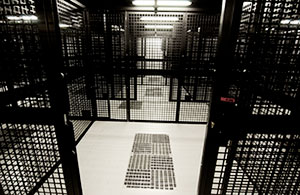 Cage
ColdMall®, a rack management system that optimizes air conditioning efficiency
ColdMall® is the rack management system developed by IDC Frontier. It has been created as a result of in-depth simulation of air flow on a whole floor. ColdMall® enables us to optimize the air conditioning efficiency, resulting in creating a safe environment to operate highly integrated servers which consume a lot of power and generate high heat.
Bird's-eye view map of racks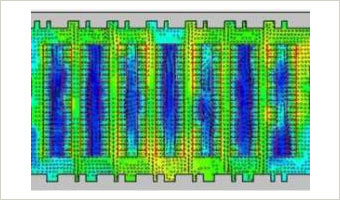 Before ColdMall® is installed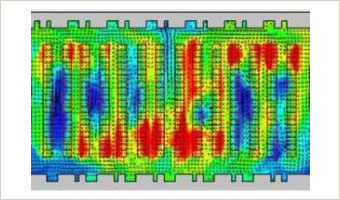 After ColdMall® is installed
Amenities and Surroundings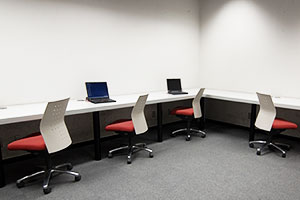 Customer business labs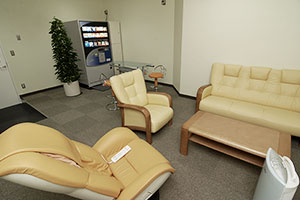 Customer lounge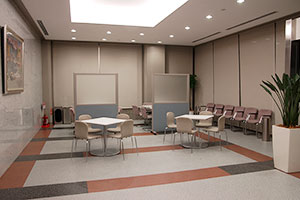 Entrance hall

Customer business labs
We have a business room with Wi-Fi available for you. You can use it to do a little work like checking email and others, instead of going back to your office to do it.

Customer lounge
The customer lounge with vending machines and a massaging chair is available for you.

Meeting rooms/space
Use a meeting room or space at the entrance hall to talk with your partner companies or others.

Convenience store
0-minute walk

Eating place
There are many around the nearest station.

Parking lot
Located in the building (free of charge)