MANAGED GSLB

Managed GSLB
Mechanisms to keep your services alive.
Easy and inexpensive BCP/DR measures achievable with the managed services
Managed GSLB (Global Server Load Balancing) meets your needs of business continuity planning (BCP) and disaster recovery (DR) measures.
In case of your main site getting impacted by a major disaster, power outage, or a system failure, Managed GSLB automatically load balance or switch over to the backup site to between Data Centers or cloud services to minimize downtime.
Select from 2 types
Managed Services
Managed GSLB
Managed GSLB is provided using the GSLB devices managed and operated by IDC Frontier. That is why you do not need to make facility investment nor bear operational burdens.
You can leave the configuration and management of your GSLB to IDC Frontier.
On-Demand Services
GSLB on IDCF Cloud
GSLB on IDCF Cloud is available right away just with one coin and no initial cost.
User-friendly Cloud Console let even a GSLB beginner configure the services and add modifications with no problem.
What you can do with Managed GSLB
Using this services with IDC Frontier's Colocation (Housing) services and IDCF Cloud, an IaaS public cloud, let you load balance or switch over network to geographically different location.
| Service Type | Description |
| --- | --- |
| Active/Standby | Switch over to the backup site when the main site is down. |
| Active/Active | Load is balanced among multiple Data Centers and IDCF Cloud. |
Active/Standby Configuration
(auto switchover)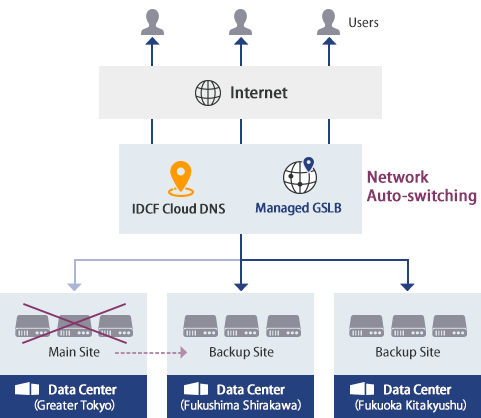 Wide area disaster measures
 Redundant configuration between Data Centers far away from each other.
 Network is switched automatically so that services recover promptly without human intervention.
 Shared GSLB is offered inexpensively.
Active/Active Configuration
(load balancing/redundant)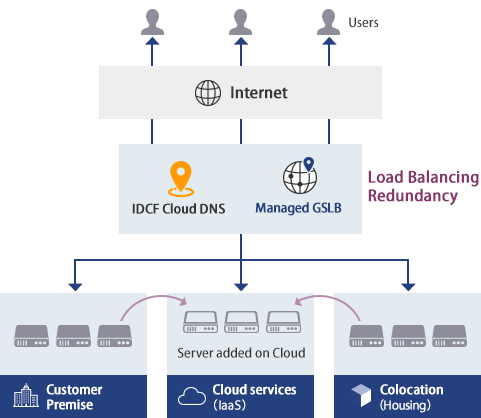 For quick server expansion, or as a solution if you do not have enough space on your rack.
 You can expand or load balance your systems from a virtual machine on the cloud services.
 Managed GSLB Services helps you perform Data Center relocation or switching in phases by letting you operate your services concurrently.
Start your business continuity planning easily without investing in facilities nor dealing with operational budens.
You can start using Managed GSLB Services just by setting DNS management info, without much affecting your existing systems, and not much hassle to introduce.
The services is provided using the GSLB devices oparated and managed by IDC Frontier. Customers do not need to invest in facilities nor deal with operational burdens, and global load balancing or network switch over is achieved with low costs.
Basic Services
Configuration made based on Customer's request.
Standard Specifications
Active/Standby
Active/Active
Load Balancing Method
-
(Switching over)
Round Robin/Weighted Round Robin
Health Check
ICMP(ping)/TCP/http
Domain Type
Unlimited
Bandwidth
Unlimited
Number of PVs
Unlimited *
* We may ask you to provide information related to the number of PVs of a specific site as reference data used for the accommodation design.
Related services