LOCATIONS

Locations
Reliable capacity for expansion and diversification of power companies
Selecting a Data Center based on the superiority of the location
In the "Kitakyushu Data Center" and "Shirakawa Data Center", which regard one building as one module, buildings are constructed in accordance with the scale of demand, ensuring sufficient electricity and an area that can be expanded on a large site.
Customers can flexibly upgrade their systems at their sites, so they can use their systems safely for a long time.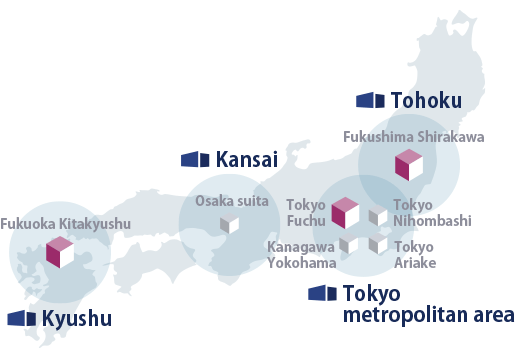 In addition to suburban Data Centers, we have urban Data Centers in the Tokyo Metropolitan and Kansai areas. We have locations throughout Japan.
The East and West locations allow for the physical distribution of systems and the diversification of power providers, enabling customers to select the strengths of each location, such as connectivity between the Internet and Data Centers, as well as use for business continuity planning (BCP) and disaster recovery (DR).
Ideal for disaster recovery demand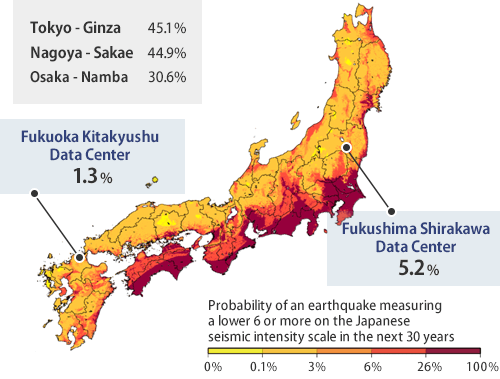 In addition to physical data distribution, such as backup sites and Data Center redundancy, this location, which is considered to have a very low probability of a major earthquake occurring in Japan, also helps to reduce the risk in the event of a major disaster by enabling power suppliers to be diversified.
Source: J-SHIS Map (2016 Edition), website of National Research Institute for Earth Science and Disaster Resilience
* Compared to the 3 major metropolitan areas of Tokyo, Nagoya, and Osaka, the probability of an earthquake measuring lower 6 or more on the Japanese seismic intensity scale in the next 30 years is very low. Moreover, according to the Kitakyushu City Disaster Prevention Information Map (published by Planning Division of Kitakyushu City Construction Bureau), the risk of natural disasters such as river flooding and landslides is low in this area.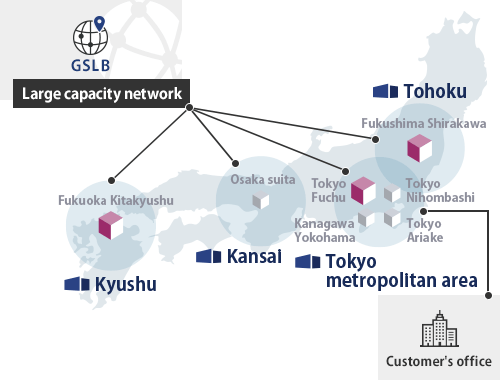 Even in the event of a major disaster or disaster that affects the customer's primary site, the GSLB service* can automatically balance loads among multiple Data Centers and switch to a backup site.
* Global Server Load Balancing
SUBURBAN TYPE

Suburban type
URBAN TYPE

Urban type
Tokyo metropolitan area
Ariake Data Center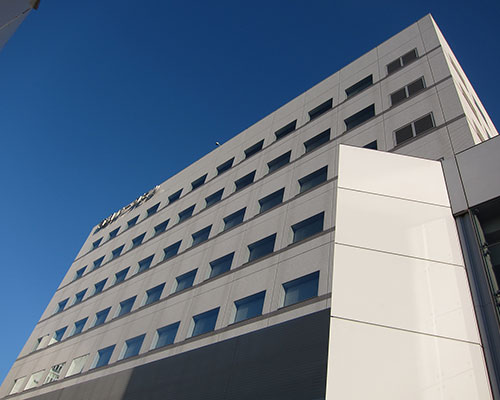 Ariake Data Center
Perfect disaster prevention function in the event of a large-scale disaster such as a major earthquake
It is located in the waterfront sub-center area (Bureau of Urban Development Tokyo Metropolitan Government, overall degree of district danger level 1*) which is highly safe as a wide-area disaster prevention base. It is a Data Center equipped with a perfect disaster prevention function that can cope with a large-scale disaster such as a major earthquake.
In addition to physical security measures for systems, we provide reliable managed services based on the high-quality operational monitoring system.
* Based on the Tokyo Metropolitan Earthquake Disaster Countermeasures Ordinance, the overall risk level related to earthquakes in each district has been relatively evaluated by dividing into five ranks for each town and block. (Low risk 1 - 5 High risk)
Shinkawa Data Center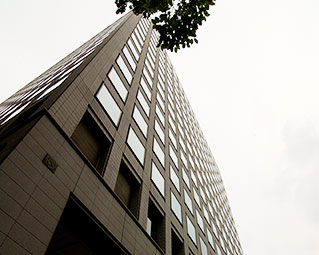 It is close to the business districts such as Otemachi, Nihombashi and Kabutocho.
Flexible rack configurations available from 1/4 racks. It is also possible to use a carried-in rack and cage according to your request.
Nihombashi Data Center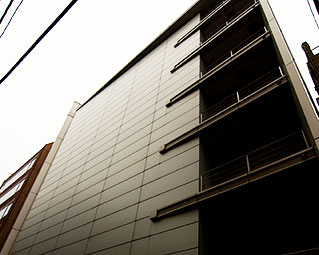 Excellent location with excellent access within 10 minutes from the center of the business areas such as Otemachi and Marunouchi. Directly connection to IX on the Data Center premises. A smooth network environment is available.
Yokohama Data Center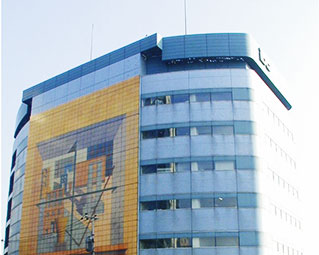 It is located in the Yokohama Bay Area, where companies are advancing in association with large-scale redevelopment. It is also convenient to access from central Yokohama and the Minato Mirai 21 district.
Kansai area
Suita Data Center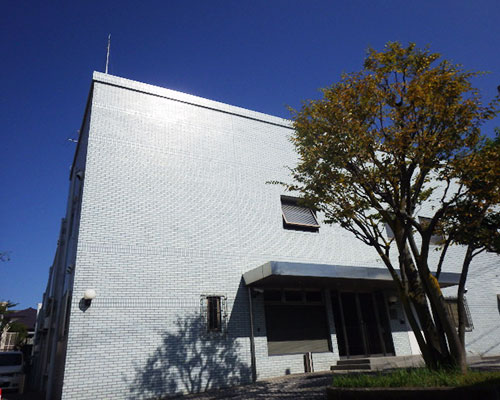 Suita Data Center
Main Data Center in the Kansai district
Main Data Center in the Kansai district. It is located in a convenient and attractive location, about 5 km from the business area in central Osaka. It has been built in an area with strong ground which is superior in disaster prevention.
Flexible rack configurations available from 1/4 racks.