TOKYO FUCHU DATA CENTER

Tokyo Fuchu Data Center
Next-generation Data Centers
for the age of AI/IoT
The Tokyo Fuchu Data Center, which opened in Fuchu City, Tokyo in December 2020, is one of the largest Data Centers in Tokyo.
It is equipped with a large power supply that can be used for global hyperscalers and high quality network lines. It is located in a Level 1 area, the lowest risk area on the hazard map (*) established by the Tokyo Metropolitan Government, and is resistant to earthquakes with a seismic intensity of upper 6 due to its seismic isolation structure.
*Based on the Tokyo Metropolitan Earthquake Disaster Countermeasures Ordinance, the overall risk level related to earthquakes in each district has been relatively evaluated by dividing into five ranks for each town and block. (Low risk 1 - 5 High risk)
Data Center that provides new value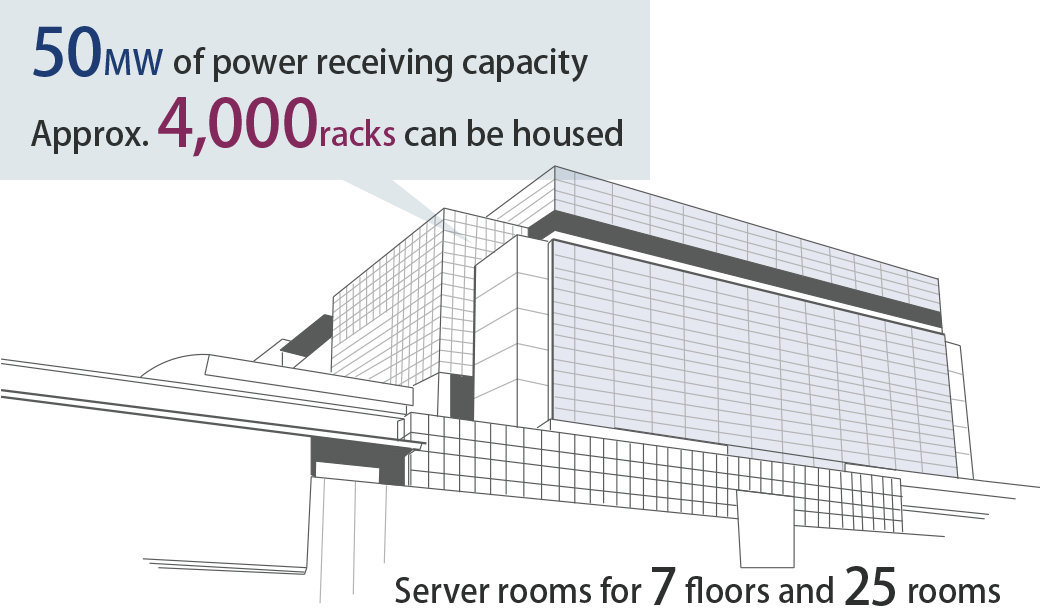 The Tokyo Fuchu Data Center has a maximum power receiving capacity of 50 MW, and 25 server rooms can accommodate about 4,000 racks.
We offer scalable and on-demand services from rack units to server room units.
The average effective power per rack corresponds to 7 kVA.
High Power Housing Service, which offers racks for highly integrated servers, is available now.
Low latency and carrier-free network
The Tokyo Fuchu Data Center, located in Tokyo, enables low-latency connections to major points of customer bases, Data Centers of other businesses, and various networks in the Tokyo metropolitan area, regardless of carrier.
For example, it can be used to expand global business in the Asian region by using the landing stations and gateways in the Tokyo metropolitan area.
All of IDC Frontier's Data Centers have acquired ISO/IEC 27001 (ISMS) certification for information security.
Customers can use our Data Centers for their business with peace of mind.
Flexible collaboration with cloud services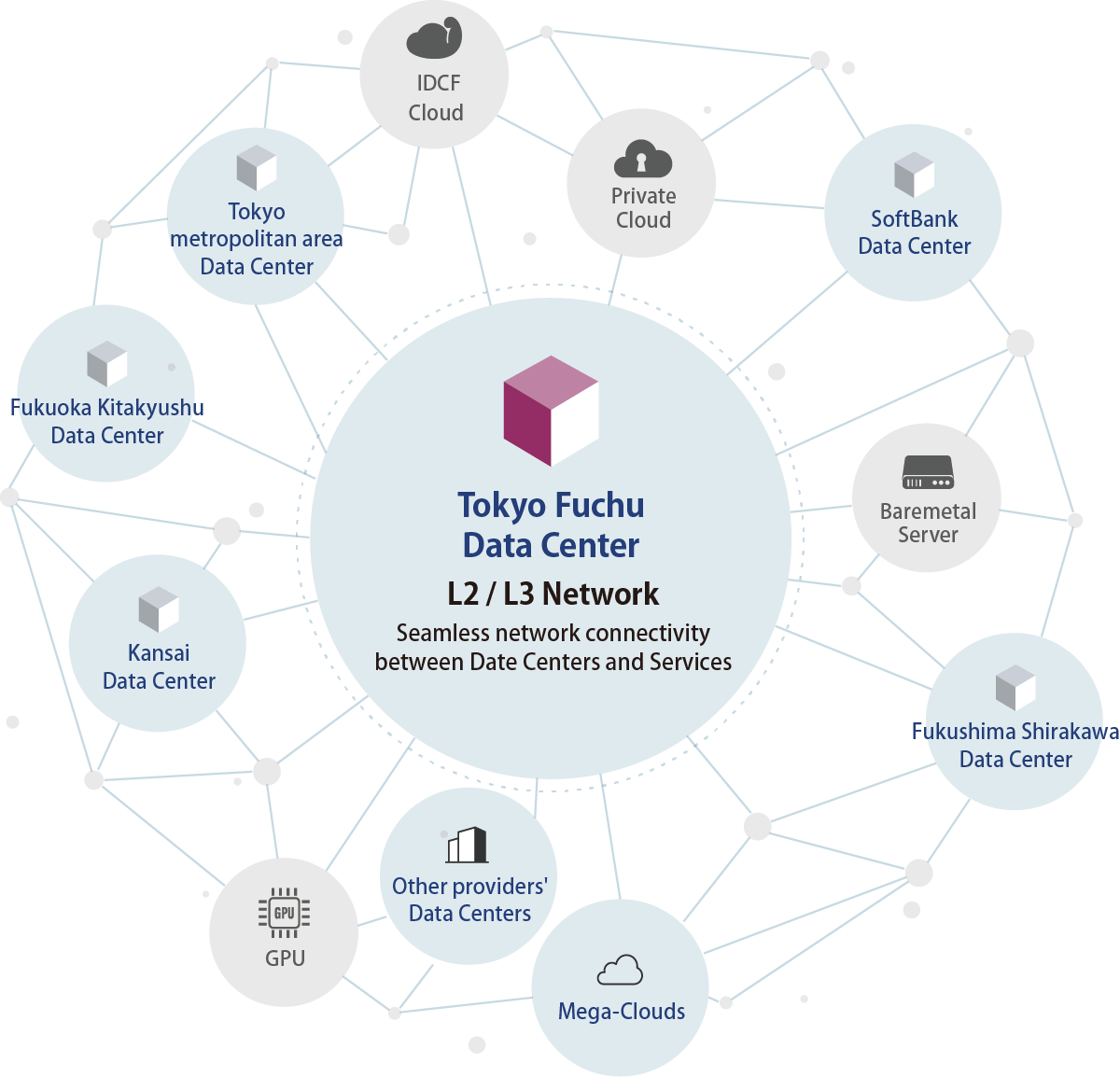 From the Tokyo Fuchu Data Center, customers can use the Internet line that connects to the Tokyo Otemachi PoP/Osaka Dojima PoP (Via Tokyo Otemachi PoP) via the backbone, as well as a closed network between locations.
Leveraging our expertise as one of the leading cloud service providers in Japan, we offer collaboration solutions that are optimized for each customer's business, such as connecting to various cloud services including AWS, Azure, Google Cloud PlatformTM, and IBM Cloud (*), building private clouds, providing commercial cloud platforms, and providing large-scale content services.
* Service names and product names mentioned in the text are registered trademarks or trademarks of their respective companies.
Optional Data Center operations
The Tokyo Fuchu Data Center has an office building directly connected to the Data Center building. In addition to meeting rooms and break rooms, there is a rental office area for customers. As a permanent base for staff, you can work comfortably in a calm environment just like inside the company.
When you use IDC Frontier's unique Outsourced On-site Operation Services, our company staff will perform virtually all on-site tasks on your behalf, including installation and server construction, disaster recovery assistance, and regular operations.
As a result, the system can be operated without the need for permanently stationed staff or physically entering the building.
We offer a variety of operation forms to meet customer needs, so please contact us.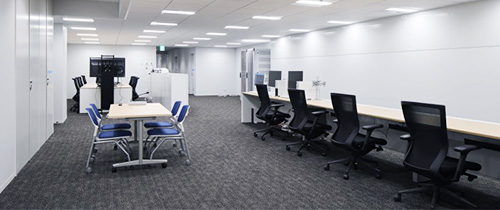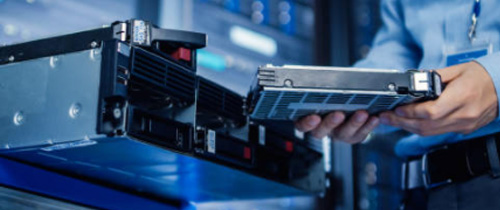 Service Menu
Colocation
Server room
Contract units

Rack

Server room
Security
Rack unlocking via facial recognition
Customizable
Rack specifications
Our standard rack
(EIA-compliant universal pitch: 19 inches/46 U)
*You can also bring your own rack.
-
Power supply type
Standard: 100 V 30 A 4-system
Additional power supply: Either 100 V 30 A or 200 V 30 A can be selected.
*If you would like any other power supply, please contact us.
Standard: Three-phase 4-wire 400 V, three-phase 3-wire 200 V, single-phase 3-wire 200 V/100 V
Available power
7 kVA/rack or 15 kVA/rack
1,204 kVA/space or 1,113 kVA/space
Facilities
Building structure
We have adopted a SRC structure (steel reinforced concrete structure) with a base isolation structure that minimizes the impact on buildings and customer racks by absorbing seismic vibrations with seismic isolation rubber. Five elevators, including a 4t loading machine, are found on site, allowing smooth movement even on the upper floors.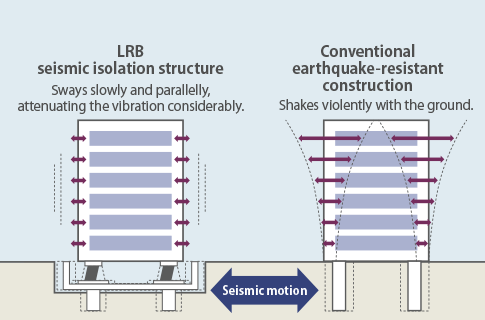 SRC seismic isolation structure
Security
For entry and unlocking of racks, we have introduced contactless-type automatic doors using facial recognition and vein authentication. We minimize the risk of infection and maintain a high level of security where only registered visitors can enter.
In addition, security guards are stationed 24 hours a day to patrol the building site, and surveillance cameras are installed around the site, at the building entrance, in each passage, and in each server room to detect intruders and abnormalities.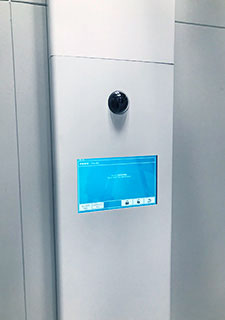 Facial recognition system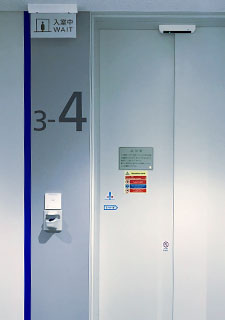 Vein authentication system
Power supply facilities
They are equipped with a loop power receiving system and an uninterruptible power supply (UPS) as an emergency power supply, as well as a gas turbine generator that can be operated continuously for 48 hours with stored fuel.
Extra high-voltage power receiving facilities
Air conditioning and cooling facilities
A water-cooled wall blowing air conditioning system with an air-cooled chiller and turbo refrigerator has been adopted. Hot aisle capping is used to cover the top of the rear passage of the rack to increase cooling efficiency by preventing recirculation of hot exhaust from the server.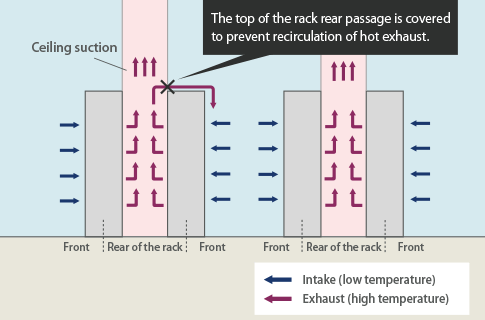 Hot aisle capping
Amenities and Surroundings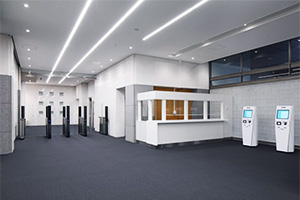 Entrance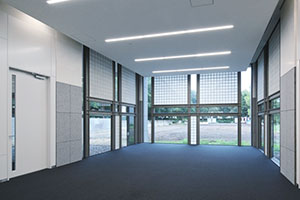 Presentation room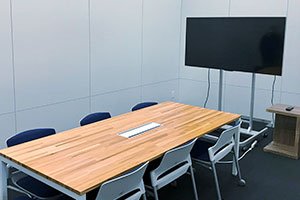 Meeting room (reception room)

Relaxation space
Break areas are provided at the entrance and gallery passage on the 1st floor.

Meeting rooms and office areas
There are conference rooms and office areas with Wi-Fi provided.
These can be used for meetings or as a permanent base.

Convenience store
There are several convenience stores within walking distance.

Eating place
There are several convenience stores within walking distance.

Access
Multiple subway and train lines; 10 to 20 minutes on foot from the nearest station

Hotel
There are several convenience stores within walking distance.