MANAGED SERVICES

Managed Services

IDC Frontier can manage everything from construction to operation.
For customers using our Data Centers, we introduce the managed service in which IDC Frontier manages all operations on behalf of customers, from the introduction of network devices and systems to monitoring and troubleshooting.
As a Data Center operator, we have accumulated a wealth of advanced technical capabilities and operational know-how over a long period of time to strongly help customers solve their problems and reduce operational burdens and costs.
Operational Support Services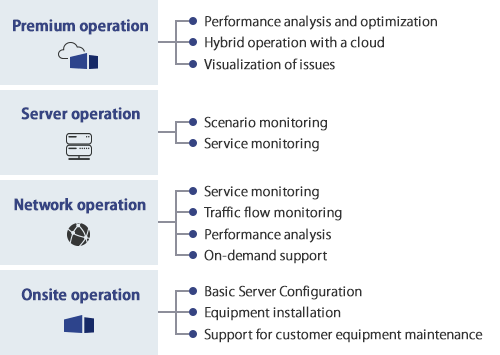 You don't have to rush any more.
Everything is done remotely
You don't have to worry about bothersome on-site work and meaningless alerts.
The IDC Frontier's Data Centers save customers' time and money through the operation system that does not require the customers to enter the centers.
Managed Network Services
Managed Firewalls
High-performance firewalls can be introduced at low cost, and specialized security engineers take care of the operation management.
Managed Load Balancing
We take care of everything from the introduction and settings of load balancers that improve high availability and fault tolerance to monitoring and troubleshooting.
Managed L2 Switches/Managed L3 Switches
L2/L3 switches are provided for Colocation (Housing) users. We take care of everything from operation to maintenance.
Managed DNS
We take care of DNS server operations on behalf of customers. There are two types available: both primary DNS and secondary DNS, or secondary DNS only.
Intrusion Detection System/Instrusion Prevention System (IDS/IPS)
The system automatically detects and blocks attacks and unauthorized access that cannot be prevented by a firewall or virus check.
Managed GSLB
We can realize a system that does not stop service even in the event of a natural disaster or failure "BCP/DR measures" at low cost.
DDoS prevention
DDoS Guard offers you DDoS countermeasures on your network.
Digital Certification (SSL) Acquisition
We acts as your agent or intermediary in order for you to obtain digital certificates.
IP Address Acquisition
We becomes your agent to obtain, maintain, and manage IP addresses and various types of domain names and go through complicated processes required.