MANAGED LOAD BALANCING

Managed Load Balancing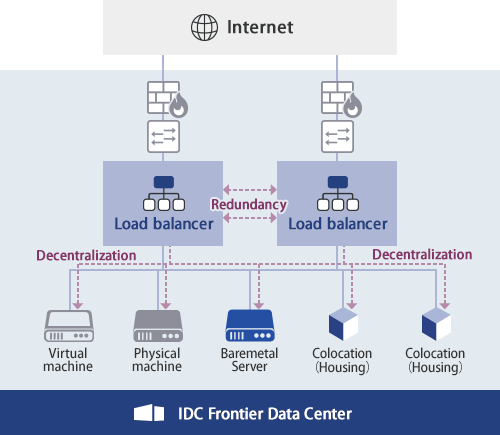 Load balancer functions that enhance high availability and fault tolerance
In this service, IDC Frontier manages operations on behalf of customers, from the installation and configuration of load balancers that carry out decentralized control of access loads to respective servers to monitoring and troubleshooting.
Features
No worries about traffic concentration
Large amounts of access are distributed to multiple servers to balance the loads so that the website can be operated stably.
Reduction of operation costs
All operations and management can be outsourced to our company, so the total costs of ownership can be reduced including system administrator workloads and management costs.
Improved availability and fault tolerance
Redundant configurations allow the service to be continued in the event of a failure.
Provision of the SSL acceleration function as standard
By centralizing data encryption and decryption processing using SSL in a load balancer, we can protect our customers' servers from overload and achieve a significant increase in processing speed.
Real-time reporting - Service operation information - (dedicated appliance type only)
The dedicated appliance type allows users to view graphic charts such as a traffic status chart on a dedicated customer site "Customer Portal".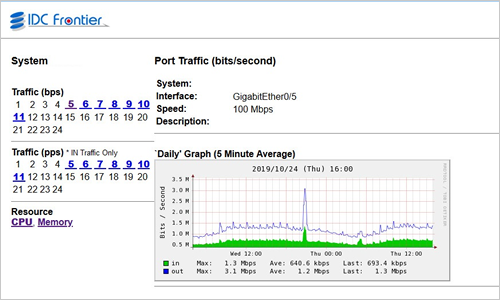 Port traffic (bps)
Port traffic (pps)
CPU utilization (%)
Memory utilization (%)
Number of real server sessions (sessions/sec)
Number of virtual server sessions (sessions/sec)
SLA (dedicated appliance type only)
The dedicated appliance type is applicable to the Service Level Agreement (SLA) for restoration time.
Specifications for the Managed Load Balancer (Dedicated Appliance Type)
Service provision contents
Main specifications
| | |
| --- | --- |
| Load balancing layer | L4, L7 |
| Load balancing system | Round robin (standard) |
| Number of VLANs available | 10 VLANs (no tag) |
| SSL acceleration | Provided as standard |
| Session maintenance | Source IP/Cookie/Session ID |
| Health check function | Provided as standard |
Introduction and configuration changes
Provision of load balancer equipment, introduction of settings, monitoring, troubleshooting, and setting changes
Interface
Standard interface
10/100/

1000Base-T

6
1G/10G

fiber SFP+

2
1G

fiber SFP

2
Administrative port
1
Additional interface
None
Application throughput (L4/L7)
10Gbps / 10Gbps
Layer 4 performance
450,000 connections/second (CPS)
Layer 7 performance
150,000 connections/second (CPS)
SSL acceleration (2,048 bits)
7,000 TPS
Processor (CPU)
4 cores
Memory (ECC RAM)
16GB
Hard disk/Storage
Single
Enclosure size
U (H 44.5mm x W 444.5mm x D 443.5mm)
Redundant power options
None
Power consumption (Normal/Max)
98W / 108W
Optional services
| | |
| --- | --- |
| Additional interface option | If you want an optical interface, we can add a "1000 Base-SX Mini GBIC" interface to the load balancer. *1 |
| Digital certificate installation option | We can install a new digital certificate in the load balancer. *2 |
*1 We can add interfaces without stopping the load balancer function.
*2 Updating of an installed digital certificate is handled as a setting change. In addition, when installing a new digital certificate, it is necessary to perform a separate setting change on the load balancer side.
SLA
SLA guaranteed values (dedicated appliance type only)
Managed Load Balancing applies SLA (Service Level Agreement), which can be proof of high quality.
Quality assurance related to equipment failures (*1)
| | |
| --- | --- |
| Software failure etc. other than hardware | Recovery within 4 hours after submitting a trouble ticket (*2) |
| Hardware failure | Recovery within 10 hours after submitting a trouble ticket (*2) |
*1 It refers to cases where the equipment under this Service Agreement has become completely unusable (Severity 1). *2 When the system designated by our company has received failure information.
Quality assurance
Reduction criteria
In case of falling below the above SLA guaranteed values, we will reduce the monthly fee by 15%. However, the SLA can only be applied once a month. (*3)
*3 Customers can receive a reduction once within 24 hours after submitting a trouble ticket. Even if more than one failure occurs within this period, you cannot receive reduction more than once.
How to make a claim for reduction
To apply for reduction, the customer is required to fill out a reduction application form and submit it within 14 days after the occurrence of the failure. The reduction process is usually implemented at the time of billing for the next month, but it may be implemented in the following month or later depending on the occurrence timing of the failure and the status of the contract.
Exemptions
Reduction is not applied to the following cases.
Incidents related to the introduction of the service
Maintenance (including emergency maintenance)
Failure of the network system managed by the customer
Cases due to external attacks, interference, etc.
Other cases due to force majeure
Related services