MANAGED FIREWALLS

Managed Firewalls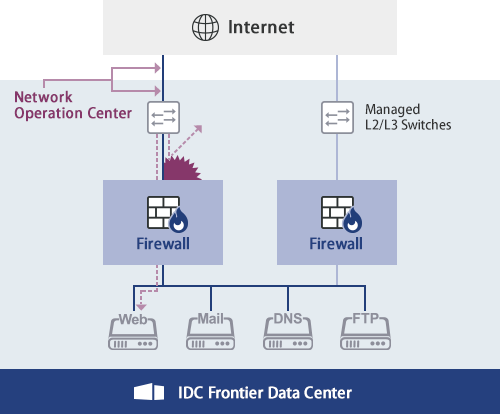 High-performance firewalls are introduced at low cost, and professional engineers operate them on behalf of customers.
In the managed firewalls service, high-performance firewall equipment is rented to customers, and engineers specialized in security assist in the establishment of security policies and manage operations as a whole.
Features
Constant monitoring by dedicated staff 24 hours a day, 365 days a year
Dedicated staff at the Network Operation Center constantly monitors your firewalls 24 hours a day, 365 days a year.
Worry-free redundant configurations
Redundant firewall configurations (hot standby) allow instant switching to the backup machine in the event of a failure.
Equipment provided
Security Appliance, Check Point Software Technologies Ltd.
Service description

Security policy decision support
Firewall monitoring and troubleshooting (with SLA)
Changes of policy settings up to 4 times per month (charged from the 5th time on)
Firewall software updates
Access log viewing
Additional interfaces (charged)
Hot standby (charged)
Emergency policy change* (charged)

Minimum period of use
1 year
*Only when used with the intrusion detection and prevention service.
Management of operations from policy setting to software version upgrades
At the time of introduction, the engineer of our company will set appropriate security policies as requested.
In addition to policy changes after operation, we also carry out updating of software versions essential for security measures in a timely manner so that customers do not have to worry about them.
Real-time viewing of access logs
From the management screen, you can check one week's access logs for the firewall equipment. (Log storage term: Max. 3 months)
Access log types

Source IP
Destination IP
Protocol/Service (port number)
Action (Accept/Deny)
Application of Service Level Agreement (SLA)
SLA (Service Level Agreement), which can be a proof of high quality, is applied to "Managed Firewalls."
Managed Firewalls SLA (Service Level Agreement)
SLA guaranteed values
Managed firewalls apply SLA (Service Level Agreement), which can be a proof of high quality.
Quality assurance related to equipment failures
| | |
| --- | --- |
| Software failure etc. other than hardware | Recovery within 4 hours after submitting a trouble ticket |
| Hardware failure | Recovery within 10 hours after submitting a trouble ticket |
Quality assurance
Reduction criteria
In case of falling below the above SLA guaranteed values, we will reduce the monthly fee by 15%. However, the SLA can only be applied once a month. *
* Customers can receive reduction once within 24 hours after submitting a trouble ticket. Even if more than one failure occurs within this period, you cannot receive reduction more than once.
How to make a claim for reduction
To apply for reduction, the customer is required to fill out a reduction application form and submit it within 14 days after the occurrence of the failure. The reduction process is usually implemented at the time of billing for the next month, but it may be implemented in the following month or later depending on the occurrence timing of the failure and the status of the contract.
Exemptions
Reduction is not applied to the following cases.
Incidents related to the introduction of the service
Maintenance (including emergency maintenance)
Failure of the network system managed by the customer
Cases due to external attacks, interference, etc.
Other cases due to force majeure
Related services