Outsourced On-site Operation Services
OUTSOURCED ON-SITE OPERATION SERVICES

Outsourced On-site Operation Services
Outsource your on-site operations and run your system without entering a Data Center.
IDCF's Data Center operators perform the basic on-site recovery support in the event of a system failure or regular maintenance works, as well as rack-mounting server or network devices at the initial installation or for a system change.
The services offer 4 different packages, allowing you to choose one that is most suitable for your needs. Each package comes with Monitoring and Operations Services (Basic) and Basic Server Configuration Services as standard, which is a pretty good deal.
Those services are provided with the most reliable support system, which you can expect from IDC Frontier, one of the major cloud service providers in Japan.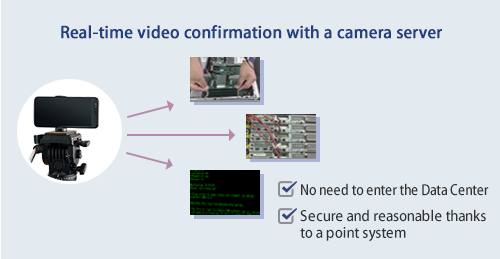 Initial construction of servers and network devices
24/7 incident responses
Real-time work observation via a camera server
Reasonably set prices offered with a simple point system
Bilingual support (Japanese/English)
Customer reviews
DR environment set up without us entering the Data Center, nor providing instructions
We have decided to build a DR environment outside of the Tokyo Metropolitan area in order to be prepared for a possible disaster such as a damaging earthquake.
Most operation services require detailed instructions. But not with this one. Instead, we just needed to tell IDCF what needs to be done, and their on-site operators did every work required for the initial installation. None of us went to the Data Center, and yet the DR environment has been successfully set up.
Midnight incident response from home
I was home when I received an intial report of an incident. I investigated right away.
I figured out what the cause was, but the machine needed a physical reboot to recover from the incident. Under normal circumstances, I would have to get to the Data Center to do it, but it was midnight and there was no public transportation available.
Using this service, I could give instructions to an on-site operator on a phone to reboot the machine. The recovery work was done totally from home.
The video offered a clear view; as if I was at the work site
We added some changes to our system which required a change in its network device connection.
Using a web conference system, I was watching the work from my home with a person from the device vendor who was also watching from their home, while an IDC Frontier's on-site operator was working on it.
The streamed video was so highly-resoluted that I could see LED status indicators and what was written on labels very clearly. It was as if I was on-site, observing the work from the operator's viewpoint.
English support well received by the overseas headquarters
An English-speaking operator participated in the work session with an advanced request, that contributed to a smooth communication in which an English speaker took part from our headquarters abroad. Very helpful.
Examples of performed tasks
Tasks performed under Outsourced On-Site Operation Services include the following. They are just examples, so please contact us to learn more about the service.
Basic server configuration
When you start using a rack in IDCF Data Center, or make some changes to your system, IDCF Data Center operators perform tasks including rack-mounting equipment such as servers and network devices, cabling them, and installing OS on them, in order to configure the servers to a basic level.
Primary incident response
The basic on-site recovery support is performed in the event of a system failure. IDCF Data Center operators perform recovery support tasks such as status checks and reports, as well as a device reboot, on behalf of Customer.
Server reboot
Based on Customer's request, a server reboot is performed in accordance with the standard procedure. Other basic reboot methods, including a force reboot by turning off and on the machine, are also performed on the 24/7 basis by IDCF operators.
LED status indicator check
IDCF operators regularly check LED status indicators on servers or other devices on Customer's rack on their behalf.
Tape swapping
Customer's DAT or LTO tapes are swapped regularly on their behalf.
Routine tasks on a monthly/weekly/daily basis
Customer's tape drives are cleaned regularly, using a cleaning tape prepared by Customer.
Replacing specified things, which require handing them over to Customer's supplier or command line operations (optional).
How tasks are conducted
While a simple task can be performed just with a telephone instruction, a complicated or emergency one can be conducted with Customer's presence using a remote conference tool with a highly-resoluted camera. The work window can be set whenever works for Customer, and they can observer the work, which are performed by IDCF operator, along with a vendor of the device to be worked on, from wherever they are.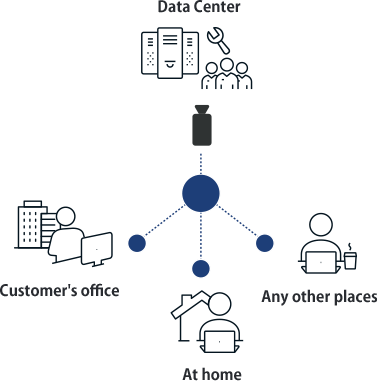 Sample: an image of a work site shown through the hi-res camera (JP)
Features
Package A (6 points/month)
Comprehensive support is provided for such as a backup site, from relatively simple maintenance tasks to failover tests. This is a recommended package with excellent cost performance.
Package B (10 points/month)
For general maintenance operations of such as a core business system. In addition to the service items of Package A, a vendor coordination service, periodic operation reporting, etc. are fully available.
Package C (40 points/month)
For high-availability and large-scale sites used for real-time video streaming, E-commerce, etc. This package covers and focuses on management of important logs as well as service availability.
Package D (individual quotation)
For environments which require frequent configuration changes, such as social, game, and promotion sites. The package includes monitoring and operations, incident responses, and on-site works performed on a regular basis or upon request.
Applicable Data Centers
* Tokyo Fuchu Data Center will be provided in a separate menu. Please contact us for details.
Related services