TOKYO ARIAKE DATA CENTER

Tokyo Ariake Data Center
Perfect disaster prevention function in the event of a large-scale disaster such as a major earthquake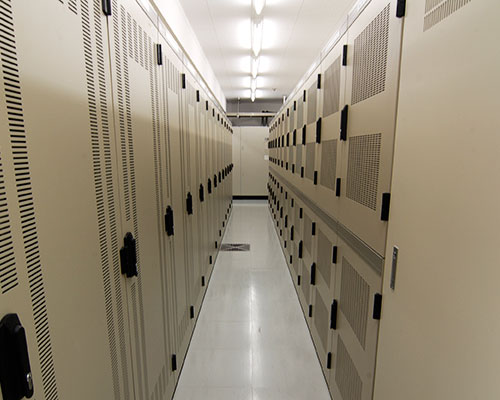 It is located in the waterfront sub-center area (Bureau of Urban Development Tokyo Metropolitan Government, overall degree of district danger level 1*) which is highly safe as a wide-area disaster prevention base. It is a Data Center equipped with a perfect disaster prevention function that can cope with a large-scale disaster such as a major earthquake.
* Based on the Tokyo Metropolitan Earthquake Disaster Countermeasures Ordinance, the overall risk level related to earthquakes in each district has been relatively evaluated by dividing into five ranks for each town and block. (Low risk 1 - 5 High risk)
Facilities
Architectural structure
A building with a strong earthquake-resistant design that can withstand a seismic intensity of 6 or more in accordance with the new anti-seismic design code. Sixty three piles with a diameter of 1.3 to 2.0 meters have been driven into the bedrock more than 30 meters underground. In addition, measures against high tide and liquefaction have been implemented based on the basic disaster prevention plan for the waterfront sub-center.
Power supply
Power is supplied to the building by highly reliable "3-spot network feeding." On each floor, power is supplied to each rack through a UPS with a capacity of 1,000 KVA. As emergency power supply, the building is equipped with a gas turbine generator that can be operated continuously for 18 hours using an emergency switching battery and stored fuel.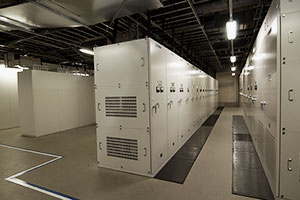 Power receiving and transforming facilities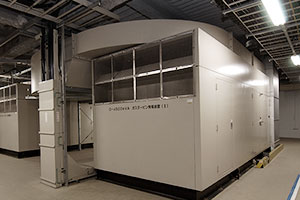 Emergency generator
Rack/Space
EIA-compliant standard 19-inch racks are available in 1/2 or 1 rack units. We can also respond to requests for carried-in racks, cages, etc. upon consultation.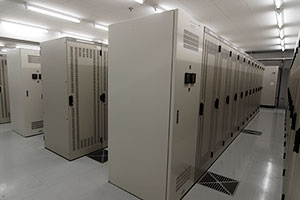 Server room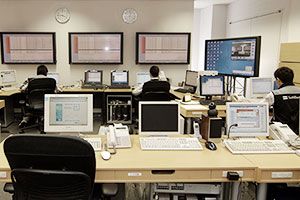 Network Operation Center
Amenities and Surroundings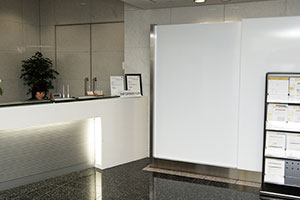 Entrance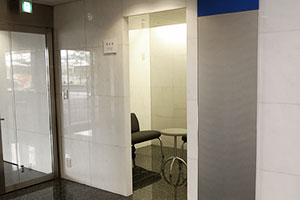 Waiting room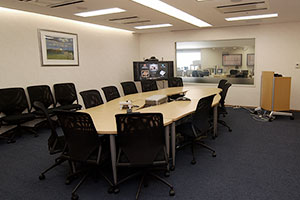 Meeting room

Break room
It is fully equipped with vending machines.

Meeting room
You can use a meeting room with Wi-Fi environment.

Convenience store
1 minute walk

Eating places
There are many eating places within walking distance.

Parking lots
Located in the building (charged)
Located around the building (charged)