PRIVATE CONNECT

PrivateConnect

(L3)
Shift to the next generation infrastructure networks that achive seamless connection of Digital Infrastructures.
PrivateConnect connects your on-premise environment and IDC Frontier's Data Centers or clouds easily and quickly using the secure and reliable closed network.
Features
Secure connection using a closed VPN
A closed network gives you a secure environment with no direct access from the Internet, while connecting multiple sets of infrastructures.
You can have your systems highly configurable
The communication layer supports L2 connections, as well as L3 which provides reliable IP routing.
No matter what physical locations or infrastructures each system is, they can be integrated seamlessly as if they are on "one network".
Multi-carrrier, multi-cloud supported
You can have mutual connections with external carriers such as SoftBank, so that you do not need to have a carrier line installed in the Data Center, which was and would otherwise be your burden.
Quick and simple insntallation of the services.
Fast, secure, & low cost
Securer than Internet VPN, lower cost and shorter lead time than dedicated lines.
No extra fees necessary for connections within IDCF Cloud
No extra fees necessary for inter-region and inter-zone connections.
What is the difference between Virtual Bridge and Private Connect?
IDC Frontier offers 2 different types of closed network services. Select whichever fits your needs.
PrivateConnect is our recommendation if you are considreing connecting to carrier lines, other Data Centers, or your on-premise systems in your office.
Virtual Bridge(L2)
PrivateConnect(L3)
Connection Layer
L2
L3
Network Bandwidth
Up to 10 Gbps (dedicated)


*In the case of a physical interface

1 Gbps (shared)
Destination
・IDC Frontier's services
・Carrier lines (only at certain Data Centers)


*partly not supported

・IDC Frontier's services
・Carrier lines
・Other providers' Data Centers
Price List
3 types of plans are available for each L3 or L2 connection. Select the best one for you according to your Digital Infrastructure environment and purposes. You can also combine some of them to achieve flexible system integration or configuration.
L3 connection
Type
Sites/Services
Bandwidth
Monthly Fee
Type 1
Connection with external carrier(*1)
Carrier Line/Other VPN provider
1 Gbps
Best efforts
¥12,000
Cloud Bus(*2)
From ¥50,000
Type 2
Connection between Cloud and Data Center(*3)
Colocation(Housing)
Single ¥20,000
Redundant ¥40,000
Type 3
Inter-cloud connection
IDCF Cloud
¥0(*4)
Private Cloud
BareMetal Server

¥10,000
Connection of sites in defferent regions may cost you the inter-region connection fee.
It also changes the capacity rate of the shared line.
L2 Connection
Services description
Initial Cost/One-time Cost
Monthly Fee
Type 1
External carrier line(*1)
Carrier line/Other provider's VPN
¥0
¥12,000
Type 2
Cloud-Data Center Connection(*3)
¥20,000
Type 3
Cross-Region Connection
Basic Services
¥15,000
Access Port
¥5,000
Cross-Region
¥180,000
* The listed prices do not include tax.
*1 If you use access line connections, you will be separately charged for its arrangement and installation of a carrier line (except for the case you use Cloud Bus).
*2 Cloud Bus is for mutual connection with the SoftBank's closed network services. You can choose from 2 types: Bandwidth Guaranteed or Best Effort.
[Band width Guaranteed Type] Choose from 10 Mbps/30 Mbps/100 Mbps/300 Mbps/500 Mbps/1 Gbps. The connection between IDC Frontier and SoftBank are configured completely redundantly. SoftBank's services you can connect to is ULTINA Wide Ethernet, ULTINA IP-VPN, or White Cloud SmartVPN.
[Best Effort Type] The bandwidth is 1 Gbps. You can connected to SoftBank's ULTINA Wide Ethernet.
*3 Depending on which Data Center your housing rack to be connected is located, you may be charged additionally.
*4 If you use PrivateConnect with IDCF Cloud, you will need to subscribe to Additional Network, which will cost you ¥20/hour with the ¥10,000/month cap (*tax excluded), per connection point.
Cases inter-region connections require additional charges: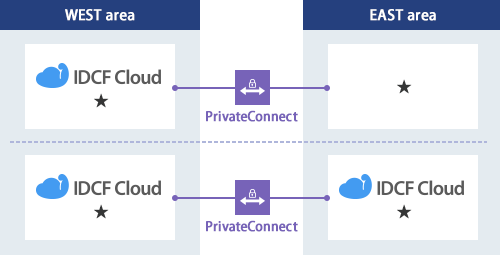 If both of the connected regions have any of the services indicated under ★, you will be charged with the inter-region connection fee of ¥180,000.
WEST Region
EAST Region
★
Colocation(Housing)
Fukuoka Kitakyushu/Osaka Suita Data Centers

Colocation(Housing)
Fukushima Shirakawa/Tokyo Ariake/Tokyo Nihombashi Data Centers
Private Cloud
BareMetal Servers
Use Cases
OnPremise x Cloud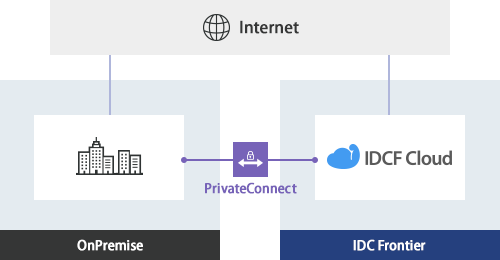 OnPremise x Cloud
Data integration with or cloud migration of the mission-critical system
Connect the information system and a public cloud with closed network without going through the Internet, and operate it as hybrid. Optimization of resource usage, phased migration to cloud.
Cloud x Data Center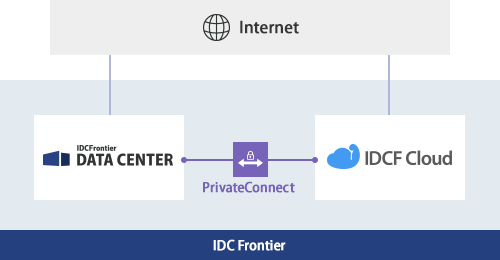 Cloud x Data Center
Hybrid usage of Data Center and Cloud services
Data requiring strict control is kept in the physical environment of a Data Center, accessed rapidly from Cloud through the closed network. Reduce device costs by migrating firewals and servers to the cloud.
Cloud Migration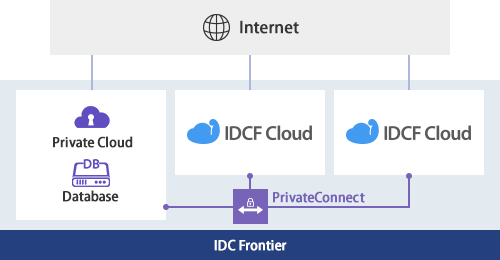 Cloud Migration
"Pick the best" of every cloud
Web services or game apps which runs among more than one public clouds, such as IDCF Cloud and Private Cloud, sharing the same customer database.
Redundancy/Global Load Balancing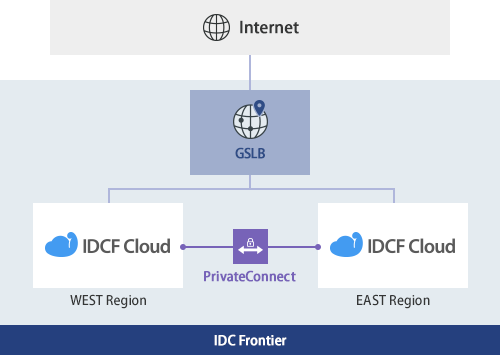 Redundancy/Global Load Balancing
By connecting different regions, you can configure a system of global load balancing cloud. You can avoid getting impacted by physical system faults. Using with GSLB (Global Server Load Balancing) enables you to have measures for BCP or DR, including load balancing and automatic switchover to the backup site.