FACILITY

Facilities

Robust facilities that can withstand earthquakes measuring upper 6 on the Japanese seismic intensity scale, redundant power supply and air conditioning facilities, and a complete security system. Our large-scale, state-of-the-art, self-managed Data Centers keep your servers safe.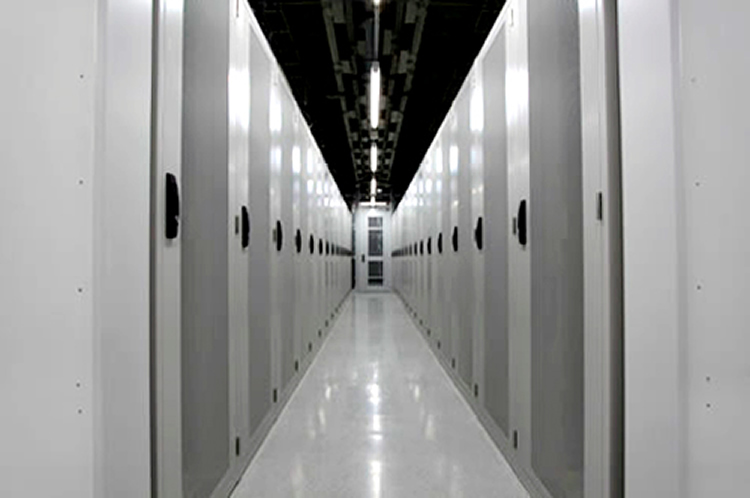 Highly integrated! 6 kVA or 8 kVA/rack as standard
Tokyo Fuchu Data Center, Fukushima Shirakawa Data Center, and Fukuoka Kitakyushu Data Center provide high-capacity power supply of 6 kVA or 8 kVA per rack. We can achieve high integration.
These Data Centers have sufficient expandability! They are our highly-recommended large-scale Data Centers.
We also have several bases in the Tokyo metropolitan area and the Kansai area, so please choose one according to your usage applications.
Power supply
An uninterruptible power supply (UPS) equipped with multiple power receiving systems, emergency generators, and batteries supplies stable power to customers' systems even in the event of an emergency.
Air conditioning
Redundant air conditioning facilities ensure optimal system temperatures.
The Tokyo Fuchu Data Center, Fukushima Shirakawa Data Center, and Fukuoka Kitakyushu Data Center use a state-of-the-art outdoor air conditioning system.
Seismic countermeasures
All Data Centers have been designed in consideration of earthquake resistance.
Facility monitoring system
Rack/cage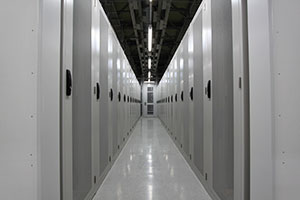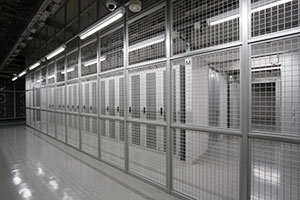 The cabinets and racks in cages are installed using an earthauake resistant construction method in order to secure enough strength.
UPS/GTG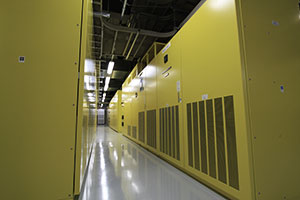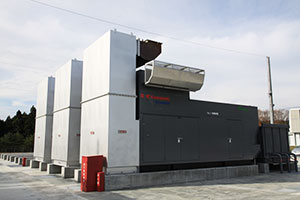 Power supply is secured for possible commercial power failure by UPS (uninterruptible power supply) and GTG (gas turbine generator), which go through periodic test runs.
Extra high-voltage substation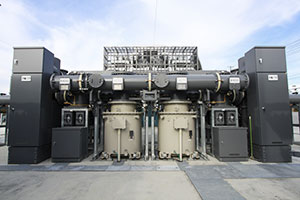 Extra high- and high-voltage substations are in redundant configuration.
Outside air conditioning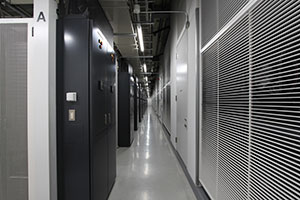 The Fukuoka Kitakyushu Data Center and Fukushima Shirakawa Data Centers use outside air for air conditioning.
Fire sign detection system
By sensing fine particles in the air, an alarm is issued at the level of a sign of fire.
Gas fire extinguishing system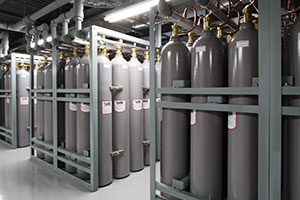 Fire can be extinguished without damaging customer's equipment by releasing inert gas.
Biometric sensor/Security portal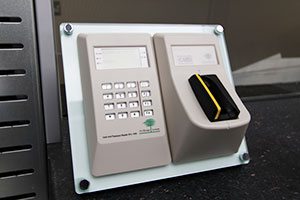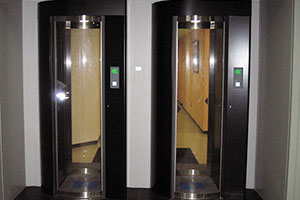 We use biometrics (biometrics authentication) such as a vein authentication device and security portal to prevent piggyback (tailgating) by measuring body weight and external shape.
Camera monitoring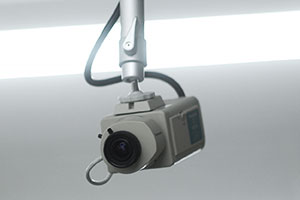 Remote video surveillance system.
Facility monitoring system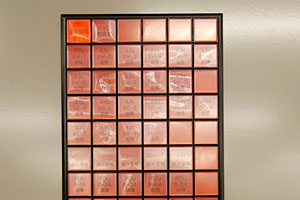 The alarm system operates 24 hours a day in case of emergency.。
Resident security guard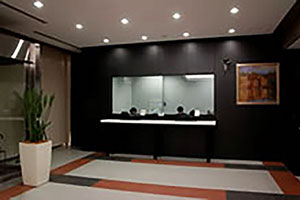 Resident security guards monitor the Data Center access, monitor security, and manage various incidents around the clock.
How to use the Data Center well
We will show good usage of our Data Centers to customers who actually use racks and cages.
This guide includes tips on how to install equipment in consideration of cooling efficiency.
Secure the equipment against earthquakes to protect the server!
It will be a big problem if an important server falls due to an earthquake. Secure all units of equipment to the rack to maintain the rack's earthquake resistance. IDC Frontier has established the following earthquake resistance standards. We ask our customers to ensure that all units of equipment meet or exceeds Level 2 earthquake resistance.
Seismic criteria
| | |
| --- | --- |
| Seismic Level 1 (High earthquake resistance) | The equipment is screwed onto the rack column. |
| Seismic Level 2 (Basic earthquake resistance) | Front and rear surfaces are fastened with earthquake-resistant belts. |
| Seismic Level 2 (Low earthquake resistance) | Equipment is just placed in the rack. Or an earthquake-resistant belt is fixed to the side. |
Cabling that does not interfere with the exhaust!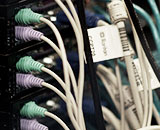 Cable the equipment so that it does not interfere with the exhaust to maintain the cooling efficiency in the rack. Using the cable management provided with the equipment may cause heat accumulation on the back. You need to be careful to secure exhaust space.
Image of single rack usage
Installation of equipment in consideration of the air flow!
In order to maintain cooling efficiency, it is important to align the intake and exhaust surfaces of the equipment in the rack.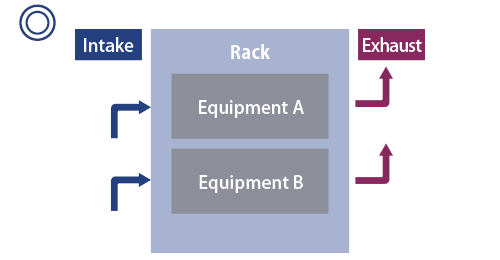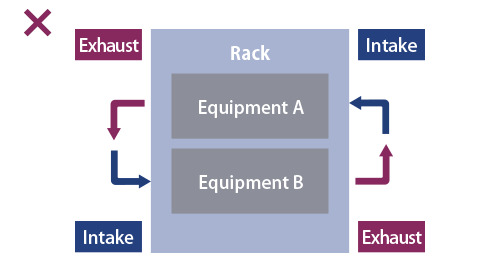 Image of multiple rack usage
When using multiple racks, install them so that the intake surfaces face each other.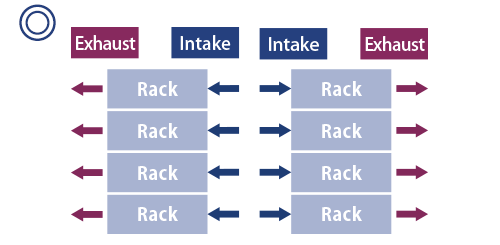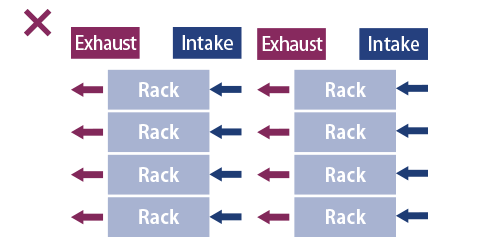 Beware of combustibles!
To prevent fire in the housing space, do not store or leave any flammable materials in the rack and the cage.
IDC Frontier lends out plastic boxes for storage of documents and media. Contact the Data Center staff.